If youíre used to driving in the UK Ė or any country that drives on the left Ė chances are you wonít have many problems driving in Australia. But like anywhere, it pays to know about the local rules and road signs before you get behind the wheel.
Sydney the home of the 2000 Summer Olympic Games
Home of 2023 Women's World Cup football,
Key rules, regulations and things to know
Drive on the left, overtake on the right. If youíve got more than one lane to choose from the remain in the lane on the left nearest the curb unless youíre overtaking.
Australia is a huge country (continent) and distances between most cities are very long. As in the USA for example it is often a lot more convenient to take a plane or even a train than drive.
Drink and Driving: Random breath testing is common and penalties for driving over the limit are heavy, so it is better to avoid alcohol completely if youíre driving. Limit is 0.02 - 0.05 More information Here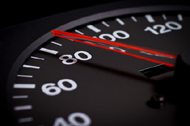 Speed Limits: All speeds and distance are in km/h. Be aware of changing speed limits. Many urban areas in Australia now impose limits of 50km/h (30mph) per hour in residential areas, with lower limits of 25km/h to 40km/h per hour around schools and other areas at certain times of day. Signage should tell you what the limits are and when they apply. To view varios speed limits summary Click Here There are differences between the states and links to individual websites can be found Here

Give way to the right at roundabouts and intersections. Exceptions apply if road signs or traffic lights tell you otherwise, or other drivers have been pulled up by a

STOP or GIVE WAY sign when you havenít.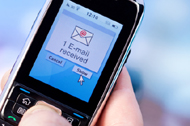 Mobile phones: These must not be used while you are driving unless it is a hands free model fitted to the dashboard or similar area of the vehicle. Don't risk using one as you can receive a heavy fine in most countries and more important cause a serious accident.
Donít beep your horn unless youíre warning other drivers of imminent danger.

Seat belts must be worn by the driver and all passengers at all times. And if youíre travelling with a baby or young child, make sure theyíre travelling in an approved car or booster seat.

Speeds and distances on road signs appear in kilometres. Not miles.
Pedestrians at marked crossings have right of way. Driving over a pedestrian crossing if people are already on it or waiting to cross is illegal.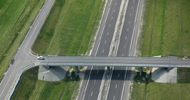 Check payment methods for toll roads in advance. Some Australian toll roads no longer accept cash payments. Instead, youíll need an e-Tag (an encoded magnetic card) or a temporary e-Pass registration to pay. Ask your rental company for advice when you pick up your car, or check the links below to see how tolls apply to your planned routes.
If the centre line on your side of the road is yellow and unbroken, you canít overtake. Itís illegal (and usually dangerous) to do so.

You must come to a complete stop at a STOP sign. If cars are coming, then you must give way to them.
You donít have to come to a complete stop at a GIVE WAY sign if the coast is clear. But you do have to slow down and check for oncoming traffic before you proceed.
A NO STANDING sign means exactly that. If you see this sign, you can stop briefly to let passengers in and out of your car, but thatís it.
NO STOPPING signs also mean exactly that. Exceptions apply only if youíre dealing with a medical emergency.

Make sure you park on the left, so that youíre not facing traffic. You canít park where signs say LOADING ZONE, unless youíre collecting or picking up some kind of cargo. Large vehicles are generally free to do this without question, but you may be asked to explain yourself if youíre in a normal passenger car.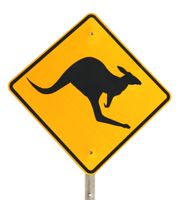 Watch out for wildlife. Wombats, koalas and kangaroos are just a few of the native and farm animals that are known to cross roadways throughout the country. Signage will generally indicate what you need to look out for where.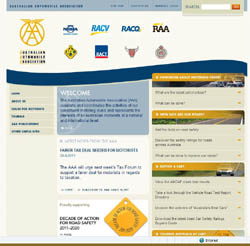 The Australian Automobile Association (AAA) - Click on the image above to enter site
Smoking in cars: From 1st October 2015 drivers in England and Wales will be banned from smoking in cars carrying children under the age of 18. The law aims to protect young people under 18 from second-hand smoke. Similar bans are already in place in the United States, Canada and Australia.
Main Source: Insurance4carhire.com

Information from holiday autos about Australia
The land Down Under. Home to Vegemite, surfing and kangaroos. Alright, thereís much more to Australia than that. Itís awesome mate. Book cheap car hire in Australia and find out for yourself. Australia car hire couldn't be easier; wherever you fly in to, thereíll be a car waiting for you.
car hire in Adelaide Itís hot. Really hot. The best idea is to book car hire and head straight for the coast. Escape the heat and head to Coober Pedy. Itís a whole town underground. Itís also famous for itís Opals. If youíre feeling adventurous head to the Flinders Ranges. Try your hand at rock climbing, a four-wheel drive or just snap away at the jaw-dropping structures.
car hire in Melbourne Four seasons in one day. It may be crowded in the city but thatís no reason to stay in. Book cheap car hire and see the sights instead. Thereís no better scenic drive than the Great Ocean Road. Itís a pretty long stretch but just think of all the photo opportunities. Had enough of pretty pictures? Drive down to St Kilda for some fun at the fairground.
car hire in Sydney Tops the charts as number one Aussie destination for us Brits. We love it. Australia car hire is the best way to see it for yourself. Surfing is a must for any visit to Sydney. Book cheap car hire and hit the waves with the locals at the famous Bondi Beach. Scared of big waves? Try climbing the Harbour Bridge instead. Theyíll look smaller from up there. Also, you get to wear a pretty smooth jumpsuit.
car hire in Brisbane Brisbane Ė home to a place called Funny Dunny. Pop on your sunnies, book cheap car hire and explore at your leisure. Take the hire car down to Moreton Bay. Watch whales migrate, go for a kayak or tackle the worldís tallest sand dune (not in your hire car). After all that action, with Australia car hire you can sit back and relax in Byron Bay. Head to the lighthouse, itís Australiaís most easterly point. Fair dinkum.
car hire in Cairns Australiaís tropical playground. Jet-skiing around shark-infested Magnetic Island is a must but hire a car and explore further a field. Head to Airlie Beach and catch a sail boat out to the Whitsunday Islands. Swap your driving specs for a snorkel on the Great Barrier Reef. Book Australia car hire and drive south for a spot of turtle watching. Itís more impressive than it sounds. Thereís also a rum distillery if it helps?
car hire in Perth After a bit of space? Western Australia has over one million square miles of it. Perth is the perfect base to find cheap car hire Australia and go exploring. Swap youíre hire car for a kite surf down at Cottesloe or Scarborough. Just make sure you have a lesson first. If the walletís feeling a bit light, book car rental and drive to Kalgoorlie for a spot of gold panning.
top driving tips - Unlike most Australian states, you canít do a u-turn at traffic lights in Adelaide.
Watch out for people getting of the trams in Melbourne city centre.
If youíre driving into Sydney city get in the right lane at the toll booths. You donít want to end up going through a tunnel and not over one of the most famous bridges in the world. Disaster
Australiaís roads are very straight. Take a rest every couple of hours.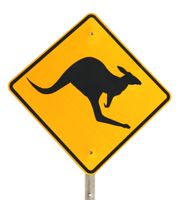 Cairnsís kangaroo suicide rate is high. Watch out for any about to jump in front of you.
Capital: Canberra
Telephone Country Code: + 61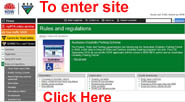 Rules & regulations - New South wales Government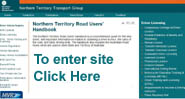 Northern Territory Road Users' Handbook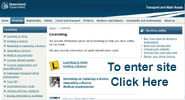 Licensing -Department of Transport & Main Roads - Queensland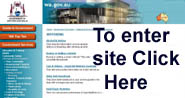 Government of Western Australia - Motoring
Rules and regulations can change by state. See more links below for specific information.
It is not a lot and in some countries even to drink the glass on the right would be breaking the law if you drove afterwards in others a sip would be too much see "Wine" below
"Wine
- even a sip will send you over the limit and invalidate your insurance in Parkistan, Cuba, Indonesia, Romania, Jordan and Nigeria, according to Rhinocarhire.com which produces a comprehensive guide."
See this guide for further information
The following websites are provided by the various Australian state governments, and feature comprehensive information about road rules, tolls and traffic conditions. Some are aimed more at learner drivers, while others (such as the NSW, Victorian and Queensland sites) have specific sections designed for tourists.
Roads and Traffic Authority, NSW
Queensland Transport: Driving with a foreign licence
Northern Territory Road Usersí Handbook
Major road rules, Western Australia (PDF)
Finally, Donít forget your car hire excess insurance and buy it before you set off
_____________________________________________