Key rules, regulations and things to know

Driving: Drive on the right and overtake on the left.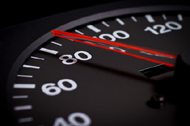 Speed limits: Motorway and dual carriageways 120 km/h Open Road, 90 km/h In towns /built up areas 50 km/h (30 near schools, hospitals, churches etc). Radar traps are frequent. In Belgium on the spot fines can be imposed by the Police, but if you receive one, make sure you have an official receipt.See Speed cameras below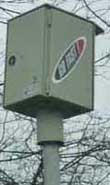 Speed cameras are small and tall very similar to those in the Netherlands (above) the UK and Ireland. They will be located on motorways and at traffic light intersections on dual carriage ways and other roads. There are not always warning signs so take care.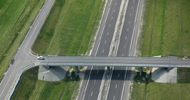 Tolls: There are no tolls on the Belgian motorway network, however some tunnels that have motorway either side have tolls.
Drink and Driving: Belgium has strict drink driving laws the limit is 0.05. More information Here
If you are involved in an accident in Belgium and the police are called, you will probably have to take a breathalyzer test regardless of the fact that the accident might be your fault and even if the accident is at 10 am in the morning!
Names of towns on signs: Because the country is dual language, unlike countries such as Ireland and Wales where everywhere the names of cities towns and villages are in two languages, In Belgium if you are in the Flemish speaking area the signs will be in Dutch and if you are in the French speaking area they will be in French. This can be confusing for cities like Mons that becomes Bergen when you are in the Flemish speaking part.
Other names are: Antwerp — Antwerpen — Anvers, Ghent — Gent — Gand, Liège — Lîdje — Luik, Leuven — Louvain — Löwen

Seat belts front and rear are obligatory for all passengers.

Parking: A 'blue zone' parking system operates in major towns. Discs are available from police, garages and tobacconists.
Disabled Parking:
The Blue Badge is recognised in all European countries
-
More information Here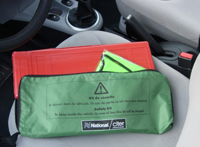 Warning / Emergency Equipment: It is compulsory to carry a warning triangle.Reflective vests are also complusory. A Fire extinguisher is mandatory in the vehicle (and has been for many years) however First-aid kit is advised, but not compulsory.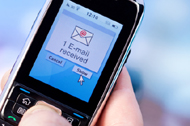 Mobile Phones: It is illegal to use a hand held mobile phone whilst driving.Don't risk using one as you can receive a heavy fine in most countries and more important cause a serious accident.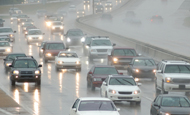 Lights: Driving on side lights only is illegal at night.
Do not park within 50 feet (15m) of a bus, tram or trolleybus stop or in the immediate vicinity of train and tram lines crossing the road.

Roundabouts: Traffic entering roundabouts has priority except where signs say 'cedez le passage' or 'vous n'avez pas la priorité', where the traffic on the roundabout has priority. The majority of Belgian roundabouts are changing to this system as in most European countries so this means that any vehicles actually on the roundabout have priority.

Travel tips:One of the best kept secrets in Europe, Belgium has a wide raft of attractions including quaint towns, medieval cities, gothic cathedrals, castles, idyllic farmlands and cool coastal resorts. Famous for its chocolates, Belgium also offers gourmet food and has over 400 beers to choose from.
Both Dutch and French are spoken in this multicultural country and there is a small German-speaking minority in the eastern part of the country. Dutch is spoken by the Flemish in the Flanders region, known for its flat and coastal landscapes. French is spoken in Wallonia, the region of farms and forests. Information source holiday autos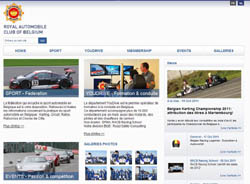 Royal Automobile Club of Belgium - to enter the site click on the Image above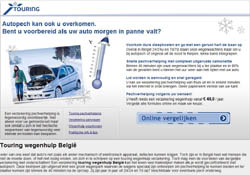 Touring (Wegenhulp) België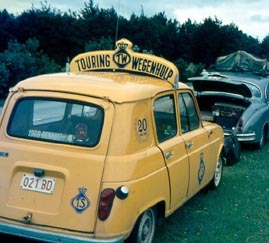 Touring Wegenhulp, the Belgian roadside assistance organisation helping a tourist in 1968

FACT FILE Belgium — Belgique- België
Belgium is a varied and charming country to visit with the swift rivers and rocky gorges of the Ardennes, contrasting with the rolling plains of the rest of the country. It is a kingdom no bigger than Maryland USA, is Europe in a nutshell, multicultural and multilingual. Flanders in the north, a flatland criss-crossed by canals, is proud of its great art cities, Antwerp, Bruges a city on canals and Ghent.
The country is bordered by France,to the west, The Netherlands to the north east, Luxembourg to the south and to the east, Germany. To the south in Wallonia, you will find the rolling hills of the Ardennes, numerous castles, and the cities of Liege, Namur, and Tournai.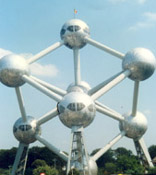 Its capital city of Brussels — Bruxelles- Brussel is one of the world's great cosmopolitan cities, home to both the European Union (EU) and NATO, as well as a wealth of international trade and finance companies. The famous old square in the centre is the Grande Place / Grote Markt.
The coastline accommodates the car ferry ports of Ostend and Zeebrugge. Ostend — Oostende — Ostende is also a lively resort.
Other cities are
Bruges — Brugge , famous for its canals and also its Grand-Place.
Tournai with its cathedral.
Antwerp — Antwerpen — Anvers is a major port.
Charleroi located in the Belgian province of Hainaut.
Ghent — Gent — Gand is located in Flanders.
Liège — Lîdje — Luik is located in the province of Liège and it is the capital of the province. It is situated in the valley of the Meuse River near Belgium's eastern borders with the Netherlands and Germany,
Mons — Bergen Very confusing for foreign visitors trying to follow the motorway when you move from one part of the country that speaks French where the sign is "Mons" to the Flemish part where it becomes "Bergen". Most of the other Belgian towns and cities have similar names in different languages, so take care in case you become lost. The city is located in the province of Hainaut and is the capital of the province.
Leuven — Louvain — Löwen is the capital of the province of Brabant. is the capital of the Wallonia region in the south of the country.
The country is famous worldwide for its beers and the cuisine is also excellent.
The Country is a founder member of the EU — European Union (formerly the EEC — European Economic Union)
Currency: — Euro (€) Currency Conversion Here
Population 2006: 10,364,388
Land Area: 30,528 Km2
Telephone Country Code: +32

Views of Belgium - Bruges - Spa-Francorchamps - Brussels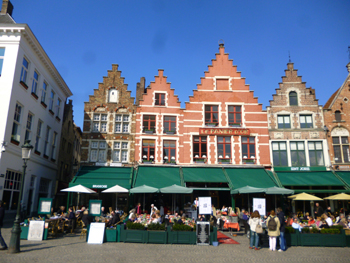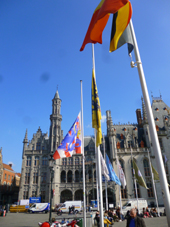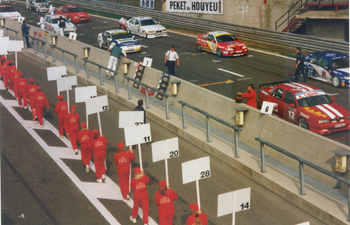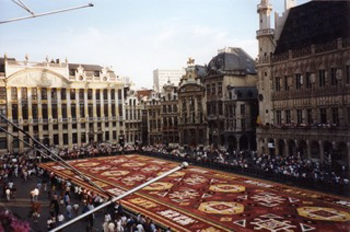 Source jmlvillas.com - (some of this information has been provided by jmlvillas.com clients)

Emergency Telephone number: pan-EU Emergency 112 Can be used in all EU Countries and it can be dialled from a locked mobile or a mobile with no sim card. We have driving guides for those countries marked in red below (plus other non EU member European countries).
Austria - Belgium - Bulgaria - Cyprus - Czech Republic - Denmark - Estonia - Finland - France - Germany - Greece - Hungary - Ireland - Italy - Latvia - Lithuania - Luxembourg - Malta- Netherlands - Poland - Portugal - Romania - Slovakia - Slovenia - Spain - Sweden
It is not a lot and in some countries even to drink the glass on the right would be bre
aking the law if you drove afterwards in others a sip would be too much see "Wine" below
"Wine
- even a sip will send you over the limit and invalidate your insurance in Parkistan, Cuba, Indonesia, Romania, Jordan and Nigeria, according to Rhinocarhire.com which produces a comprehensive guide."
If you are involved in an accident in Belgium and the police are called, you will probably have to take a breathalyzer test regardless of the fact that it is your fault or not your fault
.
See this guide for further information
Emergency Telephone Numbers in Europe:
Emergency Telephone number: pan-EU Emergency 112 Can be used in all EU Countries and it can be dialled from a locked mobile or a mobile with no sim card.
Driving abroad - British Government website. Contains general information about driving abroad and gives you the option to search for specific advice by country
Finally, Don't forget your excess cover and buy it before you set off
Excess charges could cost you up to £1,000 or more. Protect yourself by organising your insurance4carrental car hire insurance before you head to Europe.

____________________________________________