You can take out daily cover and great value annual policies so you will never need to pay for expensive cover at the car hire rental desk again
The 'Excess' policies will protect customers from the high excess charges customers risk when they hire a car as well as the many exclusions included in most other excess insurance policies including damage to the windscreen, tyres, undercarriage and roof.
Covers damage to all areas including the roof, tyres, windows and undercarriage

Annual policies include 60 day continuous cover as standard

Includes cover while hiring cars in the UK with no distance restrictions from main residence

Use it with all car rental agreements worldwide

Also cover is available for Car Club Members
Our products are not only better value than those available at most car hire rental desks, but offer even more security, with cover for Road Rage, Carjacking, Travel Expenses, Hotel Expenses, 60 days continuous cover, and Lock-out Charges included as standard.
iCarhireinsurance.com also offers a selection of add-ons that provide extra protection should the customer require it, including Personal Accident, Personal Effects Cover, Vehicle Rental Cancellation Insurance, Additional Policyholder and Vehicle Key Replacement.
iCarhireinsurance.com also offers its UK Resident annual policyholders the option to buy excess cover for car club use.
Prices are also exceptionally competitive
Many people find car hire insurance both confusing and limited. They end up spending a fortune at car rental desks, or find themselves with a huge excess bill at the end of the holiday after a small chip to their windscreen. In fact, with many policies not covering the most vulnerable parts of the car, you could easily get hit with both!
iCarhireinsurance.com protects car rental drivers, safe in the knowledge that they will not be able to get a better deal elsewhere. They comprehensive suite of Car Hire Insurance products just in time for the peak travel season!
Excess Insurance @ iCarhireinsurance HERE
Jargon Buster @ iCarhireinsurance HERE
Hot Tips for iCarhireinsurance HERE
Why Buy From iCarhireinsurance? HERE
What is Car Rental Insurance? HERE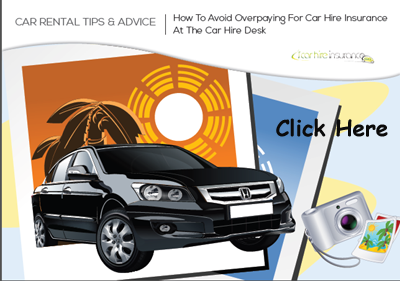 iCarhireinsurance.com is a trading name of Halo Insurance Services Limited, a company registered in England and Wales, Company No. 06929208. Halo Insurance Services Limited is authorised and regulated by the Financial Services Authority, Register No. 504629

iCarhireinsurance.com car hire excess insurance products can be purchased by residents in Ireland and many other countries.
Founded in 2009, iCarhireinsurance.com is a groundbreaking new online insurance service that individuals and companies that hire vehicles in the UK or abroad cannot afford to be without.
We offer a range of policies that are fully comprehensive, simple to understand, unbeatable value and accepted at all car rental locations worldwide. The excess payments on most hire car insurance policies are often over £500 and can be as high as £1500. The costs involved with insuring a car against these excess car rental payments are expensive, at least £9 a day from most companies and often don't cover the parts that are most likely to get damaged like the windows, tyres and roof.
iCarhireinsurance.com is an innovative company that gives customers peace of mind and can save them money by protecting customers from these excess insurance payments. It does cover parts like windows, tyres and the roof, and is at a very affordable price from £2.99 a day and £39.99 a year. Our 'Excess Europe' and 'Excess Worldwide' policies are great value, simple and easy to use, and designed to fit the specific needs to each customer, whether they want daily single-trip or annual multi-trip deals.
Customers visiting the USA can also save money as the whole insurance cover can be bought separately from the rental agreement and the cover is accepted at all car rental locations worldwide. By taking our 'USA & Canada' Policy (Collision/Loss Damage Waiver (CDW/LDW) and Supplemental Liability Insurance (SLI)) before travelling, customers can save on the expensive cover offered at the Car Rental Desk.
iCarhireinsurance.com also offers a selection of add-ons that provide extra protection should the customer require it, including Vehicle Key Replacement, Personal Accident, Personal Effects & Baggage, Vehicle Rental Cancellation Insurance, Additional Policyholder and Car Club Excess Protection.
Our chosen underwriter is Service Insurance Company Limited (SICL). Its registered office is at 260-262 Main Street, Gibraltar. SICL is licensed by the Chief Executive of the Gibraltar Financial Services Commission under the Insurance Companies Act to carry on insurance business. It is registered in Gibraltar No. 93541. It is also regulated by FSA for the conduct of United Kingdom (UK) business under Register No. 422279.
Looking for van hire excess insurance from iCarhireinsurance? Click on logo below