Summary Details: October is here again and fewer tourists about. Insurance4cahire is a company that is currently discounting a product or two.
Earlier this summer insurance4carhire.com ran a discounted price of some 20% off the purchase price of their Annual European car hire excess policy. The price was reduced to £39.20 from £49.00.
The European offer is not widely available now, however by following the link insurance4carhire.com on the insurance4carrental car hire insurance advertising site you can still purchase the product at the discounted price of £39.20. Policies can commence anytime up to 3 months from the date of purchase which is great if you need the cover in a month or so.
The company announced earlier this week that they had "Winter savings - Insurance4carhire offers 20% discount on Worldwide policies ready for the winter months"
The days are getting get darker and the weather changes from bad to worse but insurance4carhire.com says there is light at the end of a very wet UK tunnel that could be the opportunity to travel abroad this winter.
For those holidaying in an exotic worldwide destination and driving are not only lucky enough to be escaping the seasonal blues, but they can also make some savings to put towards that naughty and nice Christmas list. Car hire excess insurance specialist Insurance4carhire.com has announced that it will be lowering the cost of its annual Worldwide policies from £65 to £52 from 1st October an amazing 20% discount!
This time limited offer will be available through to 31st December 2010.
Insurance4carhire.com is only one of six car hire excess insurance providers who advertise on the insurance4carrrental.com site. The others are Questor Insurance, Essential Travel, Odyssey and Icarhireinsurance.com. All these providers have dedicated links to their sites and offer car hire insurance.
People renting a motorhome or van can also buy excess insurance via the site. Questor Insurance offers campervan hire insurance and a member of the insurance4carhire.com group insuremyvanhire.com offers the van hire excess insurance service.
Ends
Company Information
jml-property-Insurance.co.uk is part of jml Property Services, the trading name of Jeffrey Milner Ltd. The company is an UK based company that was established in 1979. jml insurance acts as a web promoter for insurance companies selling property insurance including landlord and tenant rental products, pet insurance, wedding insurance, motor insurance, car hire excess insurance (via www.insurance4carrental.com), van hire excess insurance (via www.insurance4vanrental.com),motohome insurance (via www.insurance4motorhomerental.com ),travel insurance and non standard insurance products. They also operate jmlvillas.com an online marketing service for owners of holiday home property to advertise and are part of the jml Group that includes jml Training and Consultancy.
© jml Property Services October 2010
Return to Media - Press Releases

_________________________________________
The jml Insurance website advertises and introduces you to many insurance products. To enter this site click on logo below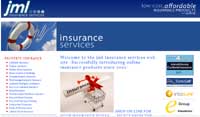 _________________________________________
Car hire Excess Insurance Blog