Summary Details: The specialist car hire excess promotion site has now added car club excess insurance. Several of the car hire excess insurance advertisers already offer this product and they have been classified under one roof.
As the cost of owning and maintaining a car (or a second car) for people living in cities these days the popularity of "Car Clubs" has come about. Cars (and vans) can be picked up in certain locations, close to a consumer's home and dropped off at another location to fit in with his or her requirements. Arrangements are made online and the customer has to join a car club.
A resident need only use a car whenever they are actually going somewhere, it could be for doing the local supermarket shop, visiting family or venturing outside the city for the day. There are no maintenance, long term parking, depreciation and road tax costs and thousands of pounds can be saved a year.
Many of these car clubs also hire vans which makes a lot of sense if someone needs to buy an item of furniture from a retailer and transport it home, or move flat or house.
Costs for hiring a car start from around £5 per hour in the UK and the car club principle is now something that consumers will find worldwide. Many vehicles are echo friendly to cut down pollution in city areas.

It also makes a lot of economic sense to take out an annual car hire excess insurance policy to cover the excess insurance on the vehicle that is being rented.
Four of the car hire excess insurance companies advertising on the insurance4carrental.com website are offering this facility. Questor Insurance, Worldwideinsure, iCarhireinsure and insurance4carhire. Some of the companies only cover the UK market, others a much wider market.
A specialist page has been set up at Car_club_Insurance.htm
Apart from car club excess insurance, consumers can also find links to temporary car insurance from Insuredaily.co.uk. This is for covering courtesy cars, a newly purchased vehicle, an additional driver or family friend on the car owner's insurance and test drive insurance. Insuredaily.co.uk also covers vans.
Company Information:
Insurance4carrental.com is part of jml Property Services, the trading name of Jeffrey Milner Ltd. The company is an UK based company that was established in 1979. jml insurance acts as a web promoter for insurance companies selling property insurance including landlord and tenant rental products, pet insurance, wedding insurance, motor insurance, car hire excess insurance (via insurance4carrental.com), van hire excess insurance (via insurance4vanrental.com), motorhome insurance (via insurance4motorhomerental.com) travel insurance and non standard insurance products and irishpropertyinsurance.com for the Irish market. They also operate jmlvillas.com an online marketing service for owners of holiday home property to advertise and are part of the jml Group that includes jml Training and Consultancy.

© jml Property Services July 2012
Return to Media - Press Releases
_________________________________________
The jml Insurance website advertises and introduces you to many insurance products. To enter this site click on logo below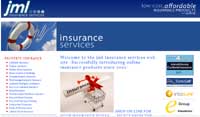 _________________________________________
Car hire Excess Insurance Blog